What Are Sweet Cakes and Why Choose Them For Your Event?
A sweet cake is one made entirely of sweets (or candy, if you hail from across the pond). Although technically not a cake in the traditional sense – there's no sponge – sweet cakes make excellent alternatives to regular cakes.
How are sweet cakes made?
Most sweet cakes are made in a similar way. At Hampton's Sweet Cakes, we first create the outer edge of the 'cake' by constructing a wall of sweets – often using taller pieces. Cocktail sticks help secure these sweets to a plinth and ensure they stay in place (they also allow guests to easily pick off the pieces they want).
After building the edge, we then fill the centre with an array of other small sweets, placing larger pieces on the top.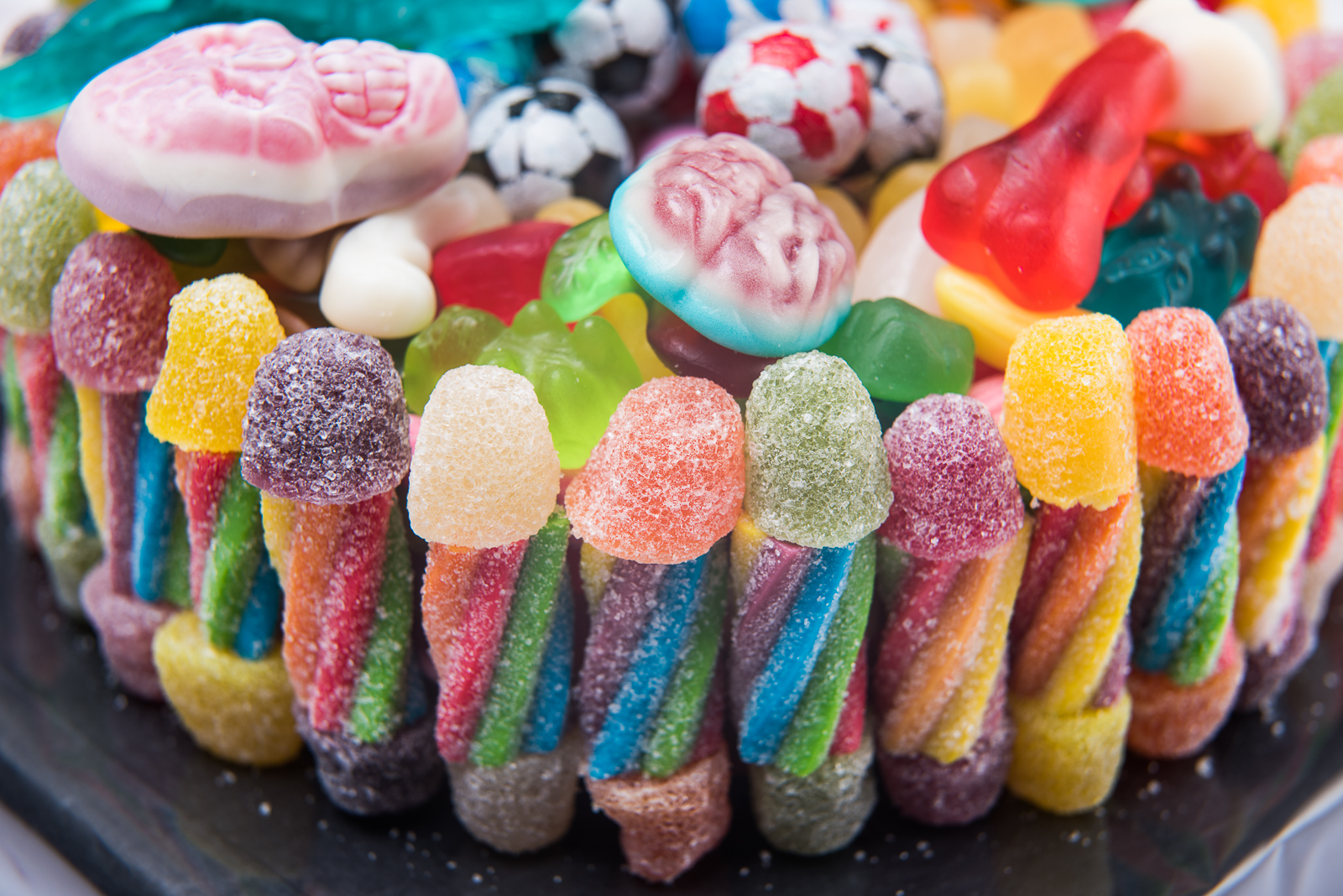 Why choose a sweet cake over a regular cake?
1. They're less hassle
Ever trawled the supermarket aisles for the perfect, themed cake? Or maybe you've spent hours baking (and burning?) an Elsa and Anna cake to satisfy your Frozen-obsessed 10 year old? For the non-bakers among us, or for those with busy schedules, a sweet cake is a great time-saver whether you're buying a fabulous Hampton's creation or making one yourself.
2. There's something for everyone
For pix n mix fans, sweet cakes are the dream. Using a wide variety of different sweets, you can cater to everyone's tastes. Guests can pick off their favourite sweets (something that might be frowned upon with a regular cake!).
Our pic n mix cakes include all your favourites from jelly beans and cola bottles to dolly mixtures and lollipops. They're guaranteed to keep everyone happy.
Alternatively, you can choose which sweets make up your cake, particularly if you want a themed or occasion cake. We offer a wide variety of themed cakes such as our Halloween or Valentine's sweet cakes, as well as number cakes for birthdays.
3. They've got the wow factor
Sweet cakes are bursting with colour. The range of different sweets in various shades and textures make for a visually striking, edible centrepiece. They're not just cakes but talking points, and they look like creations straight out of Willy Wonka's factory!
4. They're less messy
Sweet cakes are ideal for kids' parties where more than two under 10s essentially guarantees mess. With a sweet cake, an absence of sponge, icing and jam means that you avoid crumbs and other nondescript bits mashed into the carpet. Hooray!
5. They live longer
The shelf life of a regular sponge cake can sometimes create a bit of pressure. When you're ordering for a special occasion, you need to make sure the cake is presented and eaten within a certain time frame. There's no such problem with sweet cakes. Ours are guaranteed to last to a minimum of 6 months.
. . .
Order from Hamptons Sweet Cakes; let us know your sweet, colour and flavour preferences and we'll deliver a beautifully wrapped sweet cake to your door.
Sweet cakes are a delicious, bespoke alternative to traditional cakes and are perfect for all occasions whether yours is a birthday, wedding or corporate event. You don't have to be a kid to enjoy sweets!